Get ready, dear folks! It's that time of the year again – the 4th of July is just around the corner, and if you're looking for an exciting way to celebrate this special day, then Wildwood, NJ, the ultimate destination, should be on your bucket list! With its festive spirit and vibrant community, Wildwood knows how to throw a party like no other, and Independence Day is no exception. On this auspicious day, the entire city gets a patriotic makeover, and the streets are adorned with shades of red, white, and blue.
The Jaws of the ocean are not the only attractions in Wildwood, and the city offers an endless array of opportunities to indulge your senses in a variety of fabulous 4th of July events. From strolling down the iconic Wildwoods Boardwalk, indulging in delicious local cuisine, and soaking up the warm sun while taking a dip in the Atlantic Ocean, Wildwood promises to keep you entertained throughout your stay.
The fireworks are a staple of any 4th of July celebration, and in Wildwood, the fireworks show is nothing short of spectacular. The star-spangled extravaganza lights up the night sky in a dazzling display of colors and sounds, leaving spectators in awe and amazement.
So, mark your calendars for Wildwood, NJ, this Independence Day, and dive into the festivities to discover the true meaning of patriotism and the American spirit in all its glory.
4th of July Events in Wildwood: An Overview
Are you ready to experience Wildwood's lively 4th of July festivities? As you explore the town, you'll be greeted with vibrant parades filled with eye-catching floats and colorfully-dressed performers. The celebratory mood is infectious, and the residents' pride in their country is palpable.
As day turns into night, you'll be treated to stunning fireworks displays lighting up the sky and creating awe-inspiring beauty overhead. Each event is a tribute to freedom, reminding us of the unifying power of community and patriotism. So come along, buckle up, and indulge in all the excitement that Wildwood has to offer!
A Grand Salute to Independence: Kitty Cats & Fireworks Event
This Independence Day, MudHen Brewing Co is setting the stage for an unforgettable celebration with their limited edition craft beer event, aptly named "Kitty Cats & Fireworks". If you're a craft beer enthusiast, this is one event you won't want to miss!
Kitty Cats & Fireworks is a unique brew, an Imperial IPA that strikes a brilliant balance of resiny hop aroma and flavor. This beer is significantly dry-hopped with Centennial, which gives it a distinctive character that truly stands out. Just like the spectacular fireworks that light up the sky on Independence Day, this beer promises an explosion of flavors that are sure to dazzle your palate.
The event won't just be about the beer, though. MudHen Brewing Co is planning a full day of festivities. Picture this: an inviting brewpub atmosphere, the clinking of glasses, laughter, and cheer, all under a sky lit up with fireworks. It's an experience designed to bring the community together, celebrating not just Independence Day, but the spirit of togetherness that makes every celebration special.
So mark your calendars and prepare to raise a toast to freedom with MudHen Brewing Co's Kitty Cats & Fireworks. It's not just a beer, it's a celebration of the community, of independence, and of the best brewpub in 2023. Here's to making memories that will last a lifetime, one sip at a time!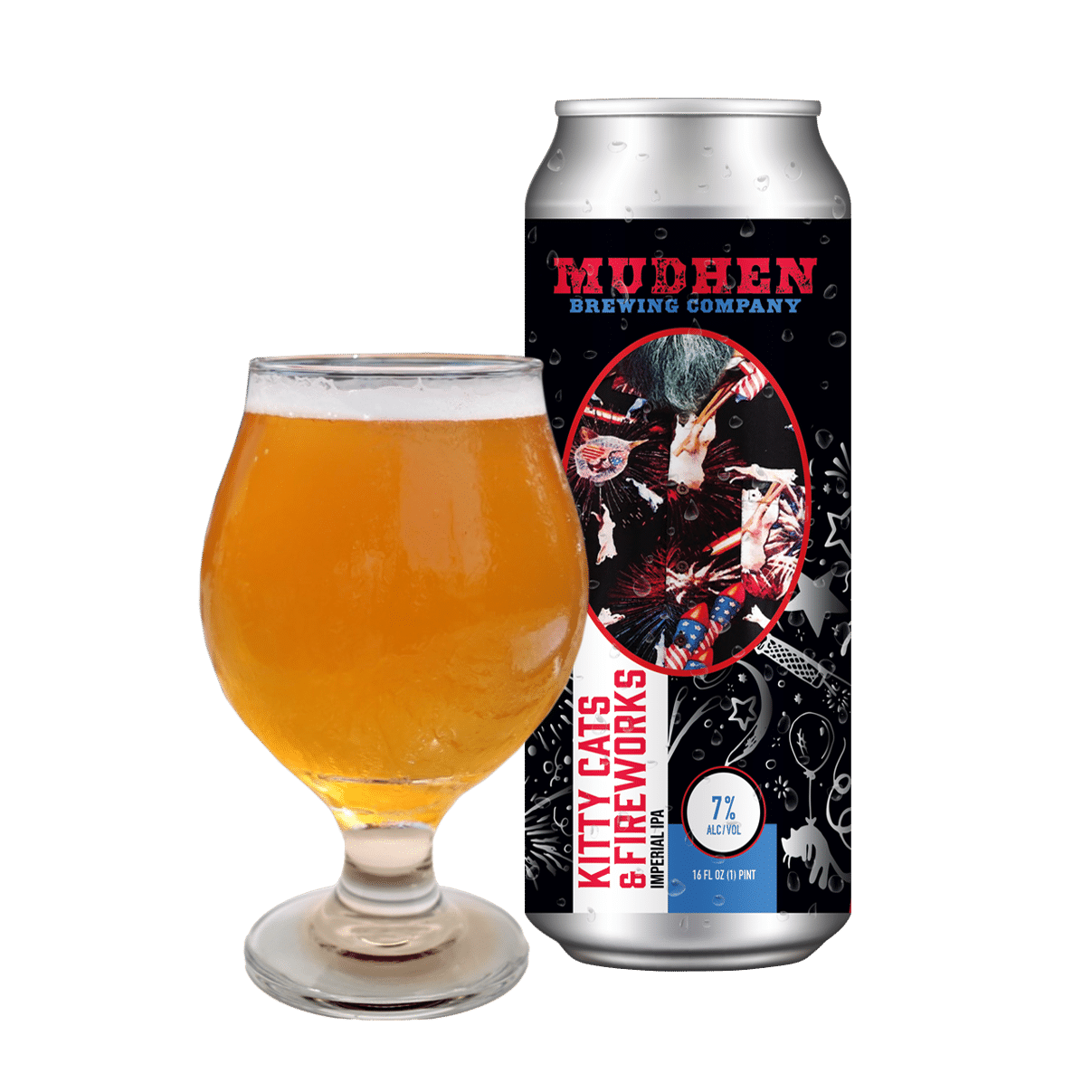 Fireworks Galore: A Spectacular Display
What would the 4th of July be like without fireworks? It's a tradition that's just as quintessential as the holiday itself! If you happen to be in Wildwood, New Jersey, you're in for a real treat. The city's renowned firework display is a sight to behold, lighting up the night sky in a burst of colors that will leave you in awe. Find the perfect spot on the beach, grab some snacks, and settle in for the show that'll definitely be a highlight of your summer.
Synchronized to patriotic music, this fireworks show is launched from the beach at Pine Avenue at 10 PM.
Parade Extravaganza: The Spirit of America
Celebrate American Independence Day at the annual 4th of July parade in Wildwood. Be amazed by the vibrant floats passing by, listen to marching bands spreading festive tunes, and watch performers showcasing their talents. Join the crowd in radiating joy and American pride as the parade fills the streets with a scene of pure celebration. It's a must-see event that brings people together to honor this important day of history.
Beach Bonanza: Fun in the Sun
The stunning beaches of Wildwood come to life on the 4th of July, with an array of exciting activities for all age groups. From building sandcastles to playing volleyball and frisbee, it's an all-out fun day in the sun! The live music, delicious food, and vibrant carnival-like atmosphere make it an experience worth cherishing and an event you won't forget in a hurry. Do not miss out on this spectacular Independence Day celebration at Wildwood!
Foodie Delights: A Taste of Wildwood
After a day filled with patriotic revelries, bursts of vibrant fireworks, and unlimited joy, your appetite is sure to awaken. Fortunately, Wildwood's culinary scene is a foodie's dream come true, featuring an explosion of flavors that'll tease your taste buds.
One of the local establishments that stands out is Mudhen Brew. Located in the heart of Wildwood, this spot is perfect for unwinding after a long and tiring day. With its diverse menu that features mouthwatering appetizers, soups, salads, entrees, and desserts, Mudhen Brew is the perfect spot to indulge your craving for good food.
The inviting ambiance completes the package, making every Independence Day moment you spend at Mudhen Brew more enjoyable. From the outdoor patio filled with lively chatter and bright lights to the indoor space, complete with warm decor and friendly wait staff, everything about Mudhen Brew is designed to elevate your dining experience.
Making the Most of Wildwood's 4th of July Events
The 4th of July is always an energetic time in Wildwood. With a plethora of events and activities to explore, there's no shortage of fun to be had. From the lively parades to the psychedelic fireworks, every aspect of the festivities is designed to bring people together in a spirit of celebration. However, if you want to make the most of the experience, it pays to plan ahead. With a little bit of foresight and research, you can ensure that you experience everything the 4th of July events in Wildwood have to offer.
Choose Your Spot for the Fireworks
If you're visiting Wildwood on the 4th of July, don't miss the spectacular fireworks display- it's truly a sight to behold! To ensure you catch every moment of the show, be sure to scout out a good viewing spot in advance. You don't want to be caught in the last-minute rush! The display is famous for its vibrant colors and syncopated explosions that light up the night sky. You definitely don't want to miss it!
It's a beautiful summer day, and the heat is on! Hydration is a must as you don't want to feel fatigued in the middle of your outdoor adventures. Be sure to drink plenty of water or other hydrating fluids that you prefer, like refreshing coconut water or a healthy smoothie. Stay cool and enjoy your day!
A day out under the sun can be an absolute blast, but not taking the necessary precautions can lead to painful sunburns. By slathering on sunscreen with an appropriate SPF, you can not only achieve protection from harsh UV rays but also prevent premature aging and even reduce the risk of skin cancer. So go ahead and enjoy your day out in the sun, but always remember to protect your skin!
Wildwood 4th of July Events FAQ
Are the 4th of July events in Wildwood family-friendly?
iolab-dev
2023-06-24T15:32:21-04:00
Yes, the 4th of July events in Wildwood are typically designed to be family-friendly. There are usually events and activities suitable for all ages, from concerts and parades to games and activities on the beach.