Are you looking to find the best hotels in Wildwood to explore with your family in Spring 2024? Look no further! As spring blossoms, Wildwood, New Jersey, awakens with a vibrant energy, making it a premier destination for those seeking a refreshing getaway. In recent years, Wildwood has seen a surge in unique accommodations, with new hotels and micro-resorts popping up, offering experiences that go beyond the ordinary. Among these, The Hen Houses stand out as a beacon of innovation and comfort in the hospitality industry.
Our Choices for The Best Hotels In Wildwood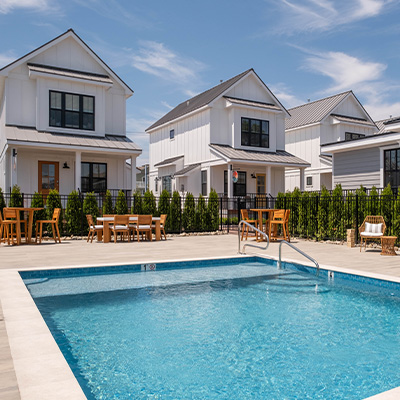 1. The Hen Houses: A Story in Every Stay
Nestled in the vibrant heart of Wildwood, NJ, The Hen Houses stand out as a beacon of uniqueness and charm. As Wildwood's inaugural Micro Resort, this enchanting collection comprises seven themed beach house rentals, each echoing a narrative inspired by local culture and MudHen brews. From the historical allure of the vintage train-themed 1883 House to the rhythmic charm of the doo-wop-inspired Wildwood Haze House, The Hen Houses are more than just accommodations; they are immersive experiences. Guests can also relish diverse dining experiences, from fine Italian cuisine to casual bar grills, all within a short stroll.
Luxurious amenities fused with historical charm make The Hen Houses an ideal choice for those seeking an extraordinary beach vacation​​​​​​.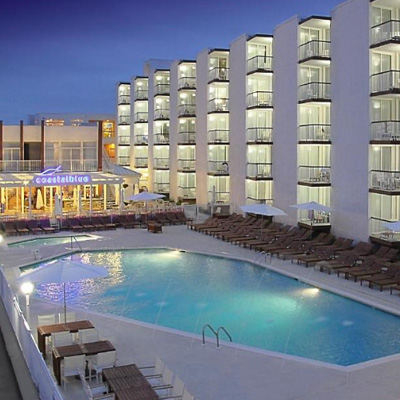 2. ICONA Diamond Beach Resort: Luxury on the Shore
Overlooking the tranquil Diamond Beach, the ICONA Diamond Beach Resort offers a serene escape in Wildwood Crest, NJ. This all-suites hotel is situated on one of New Jersey's only private beaches, providing an exclusive and peaceful beachfront experience. Guests can enjoy laid-back luxury with a year-round restaurant, a palm tree-lined beach bar, and award-winning service. The resort's suites are designed for comfort and elegance, offering breathtaking ocean views and an atmosphere of refined relaxation​​​​​​​​​​.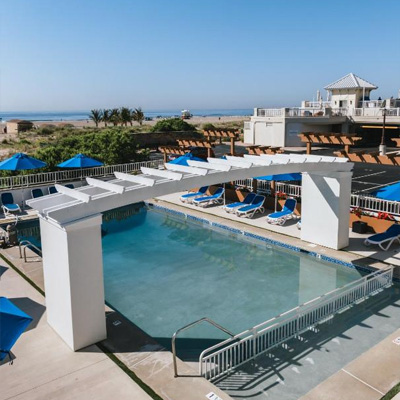 3. Mahalo Diamond Beach: A Family-Friendly Paradise
Located at the southernmost point of Wildwood Crest, Mahalo Diamond Beach creates an idyllic family-friendly environment. Known for its pristine white sand and abundant water activities, including swimming, surfing, and paddleboarding, Mahalo offers endless opportunities for fun and adventure. This new hotel combines modern amenities with a perfect location, making it an excellent spot for families seeking both relaxation and excitement on their beach getaway​​​​​​​​​​.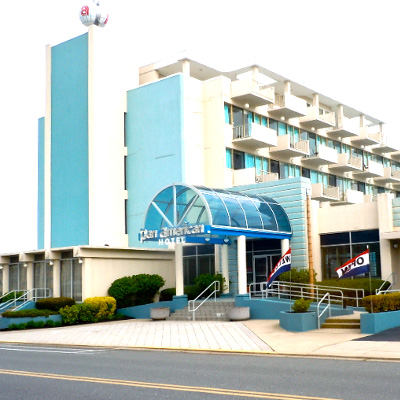 4. Pan American Hotel: A Nostalgic Oceanfront Retreat
Inspired by the glitz and glamour of the 1950s and '60s, the Pan American Hotel in Wildwood Crest offers a nostalgic journey with modern comforts. This oceanfront property boasts beautiful views from all rooms and includes amenities like Alosi's Trattoria, providing guests with a luxurious yet homely atmosphere. Open from April to October, the hotel is perfect for those seeking a blend of historical charm and contemporary luxury on their vacation​​​​​​​​​​.
5. Port Royal Hotel: Oceanfront Elegance
The Port Royal Hotel, situated on Wildwood Crest's Ocean Avenue, is an embodiment of oceanfront elegance. Known for its clean and spacious rooms, friendly staff, and perfect location for a long weekend getaway, this hotel provides an ideal blend of comfort and convenience. With amenities like a large heated pool, kiddie pool, game room, restaurant, and gift shop, and all rooms featuring private balconies, the Port Royal Hotel is a top choice for families and couples alike. Open from May to October, it offers a luxurious stay for those looking to enjoy the Wildwood Crest's beachfront to the fullest​​​​​​​​​​.
The Hen Houses: A Unique Micro-Resort Experience
Nestled in the heart of Wildwood, The Hen Houses represent the town's inaugural Micro Resort. This charming collection of seven themed beach house rentals offers an immersive experience unlike any other. Each house has been thoughtfully themed after a select MudHen brew, a nod to the local culture and craftsmanship. These themes are not just names but are woven into the fabric of each house's design, from the vintage train vibe of the 1883 House to the doo-wop-inspired decor of the Wildwood Haze House. The Hen Houses provide a story with each stay, ensuring guests not only a place to rest but an experience to remember​​.
Blending Tradition and Modernity
At The Hen Houses, the past and the present merge to create an extraordinary lodging experience. Guests have the choice of staying in one of six tiny homes or the larger MudHen Manor. Each abode offers a distinct fusion of historical charm and contemporary luxury, ensuring a stay that is as comfortable as it is memorable. Whether you're a history enthusiast intrigued by the allure of the past or a modern traveler seeking all the comforts of the present, The Hen Houses cater to all preferences​​.
The intricate attention to detail in each house creates a narrative, immersing guests in a story that extends beyond the walls of their temporary home. The 1883 House, for instance, transports you back in time with its vintage train-themed decor, while the Wildwood Haze House celebrates the iconic doo-wop culture of Wildwood, making each stay not just a vacation but a journey through time and culture.
Culinary Delights at The Hen Houses
A vacation is never complete without exploring the local culinary scene, and The Hen Houses ensure that guests are spoilt for choice. Within walking distance, visitors can indulge in an array of dining experiences. From the flagship brewery restaurant offering craft brews and hearty meals to a fine dining Italian kitchen for those special evenings, there's a flavor for every palate. And for a laid-back, casual dining experience, the local vibe bar & grill is the perfect spot to unwind after a day of exploring Wildwood. Each of these dining options, conveniently located near The Hen Houses, adds a delightful dimension to your stay, making it as much about gastronomic exploration as it is about relaxation and adventure​​.
Plan Your Perfect Wildwood Vacation
For those planning a spring getaway to Wildwood in 2024, The Hen Houses not only offer a unique place to stay but also provide a starting point for countless adventures. Drawing inspiration from the existing blog post on planning the perfect Wildwood vacation, guests can expect an array of activities to enrich their stay. From beachside fun to exploring local attractions, the location of The Hen Houses ensures that the best of Wildwood is just a stone's throw away.
Why Choose The Hen Houses This Spring
Spring in Wildwood is a time of renewal and vibrancy, and The Hen Houses are perfectly poised to offer an experience that encapsulates this spirit. Their unique thematic design, coupled with modern amenities, makes them an ideal choice for vacationers seeking something more than just a place to sleep. The intimate setting of each house provides a personal touch to your stay, making it ideal for families, couples, or solo travelers looking for a tranquil yet engaging retreat.
Customer testimonials often highlight the uniqueness of each house, the convenience of the location, and the warmth of the service, making The Hen Houses a top choice for discerning travelers.
Frequently Asked Questions About The Best Hotels in Wildwood
What are the best activities to do in Wildwood during the spring?
iolab-dev
2023-11-11T17:51:40-05:00
Spring in Wildwood offers a variety of activities, from beachside relaxation to exploring local markets and festivals. The Hen Houses' central location makes it easy to enjoy outdoor adventures, cultural events, and the natural beauty of the area as it blooms in spring.
The Hen Houses in Wildwood, NJ, offer a perfect blend of history, culture, and modern luxury, making them a standout choice for anyone visiting the area. Whether you're looking for a cozy getaway or a base to explore all that Wildwood has to offer, The Hen Houses provide an unmatched experience.