Ah, there's nothing quite like the sound of the surf, the gentle waves dancing to the rhythm of the wind, the fine sand tickling the soles of your feet, and the comfort of a cozy beach house rental. And when it comes to such rentals, there's a hidden gem in Wildwood, New Jersey, waiting to be explored.
Today, we're diving deep into the sun-drenched history of Wildwood's beach houses, discovering stories and secrets from generations of vacationers.
From the beautiful Victorian-inspired cottages to the quaint modern bungalows, each house has its own story to tell. Imagine the sounds of children laughing and playing games on the porch, the scent of barbecued hot dogs and burgers wafting through the air, and the feel of the cool ocean breeze.
So, go ahead, grab your beach towel, slather on some sunscreen, and let's embark on a journey to discover the charms of Wildwood's beach houses. Who knows what amazing stories await us?
The Origin of Beach House Rentals
When it comes to beach house rentals, few places have a history as rich as Wildwood, where golden sands adorn the shores for miles. But how did it all begin?
Let's take a closer look into the history of Wildwood's beach house rentals. In the late 19th century, Wildwood was just like any other small seaside town, with no real industry or major source of income.
That all changed when a group of savvy businessmen saw an opportunity to turn the town into a premier vacation destination. They began building elaborate beachfront homes, taking advantage of the stunning views and strategic location.
As time went on, more and more people started coming to Wildwood to escape the hustle and bustle of city life. The town grew, and so did the demand for high-quality beach house rentals.
Today, Wildwood remains one of the most popular destinations for those seeking a relaxing, beachfront vacation. Whether you're looking for a cozy bungalow or a luxurious mansion, you're sure to find the perfect rental to suit your needs in Wildwood.
The Late 19th Century: The Spark
Wildwood was once no more than a simple, sandy stretch of the Jersey shore. The landscape was unchanged for centuries. But then came the surge of seaside tourism, and the once-quiet beachfront began to evolve.
As people began flocking to the area for a summer getaway, and hotels and boardwalks began sprouting up alongside it, the Wildwood beach house came into being.
It was an era defined by sun, sea, and sand – and Wildwood was at the center of it all, a perfect place to escape from the stresses of everyday life and soak up the natural beauty of the world.
The Roaring Twenties and Beach House Rentals
In the Roaring Twenties, beach house rentals saw a boom like never before, as millions of people flocked to bask in the sun and soak in the surf. Wildwood, known for its stunning coastline and pristine beaches, became a top destination for beach-goers, with its bustling hustle and bustle 24/7. With rising demand, designers and architects of the time added their own unique flair to the already-beautiful coastal landscape, and thus, the beach houses of this era took on a whole new life.
These gorgeous abodes, often vibrant and colorful, quickly became an iconic part of Wildwood's appeal, complementing the stunning natural beauty of the beach and creating a memorable atmosphere that still echoes to this day.
The Architecture: Reflecting the Times
During the Roaring Twenties, the architecture of Wildwood's beach houses was a mirror of the times, with elaborate designs and bold features reflecting the Art Deco and Craftsman styles that were popular during the era. From vibrant colors to intricate patterns, every detail was carefully considered to create homes that were both functional and beautiful. This attention to detail and dedication to style has created a timeless appeal that still draws tourists today, who come to admire the unique character of these historic homes.
Post-War Wildwood and Beach House Rentals
The end of World War II brought about a new era of hope and prosperity for many Americans, while also having a profound impact on the tourism industry. In particular, the scenic beach town of Wildwood experienced a tremendous surge in demand for beach house rentals as families looked to take advantage of the newfound peace and economic stability.
As the post-war boom took hold and people had more disposable income, the tourism industry flourished and new rental properties sprang up along the Jersey Shore. From cozy cottages to luxurious villas, there was no shortage of options for those seeking to escape the hustle and bustle of city life for a relaxing seaside getaway.
Over time, Wildwood cemented its reputation as a premier destination for beachgoers, attracting visitors not only from the East Coast but from around the world. Today, the town's vibrant cultural scene, exciting nightlife, and stunning beaches continue to draw in crowds, ensuring that the legacy of the post-war tourism boom lives on.
During the postwar era, Wildwood's beach house rental market boomed. With the influx of tourists, new homes were built and old ones rehabilitated, giving rise to a surge in property value. As a result, beaches in this charming town of New Jersey became reputable hotspots among holiday-goers and continue to be to this day.
The Miller House: Protecting Wildwood's History
Discover the captivating transformation of the Miller House into the illustrious MudHen Manor, the unrivaled pinnacle of beach house rentals in Wildwood, NJ.
Under the stewardship of the Sciarra family, this historic gem has seamlessly blended its heritage and charm with modern-day comforts. As you step into MudHen Manor, you'll be transported through time, experiencing the elegance of a bygone era coupled with the luxury of contemporary living.
The Sciarra family's dedication to preserving the essence of the past while offering top-tier amenities has created an oasis of relaxation and splendor. Immerse yourself in the grandeur of MudHen Manor and embark on an unforgettable journey where history and modernity harmoniously converge.
The Miller House (Now MudHen Manor)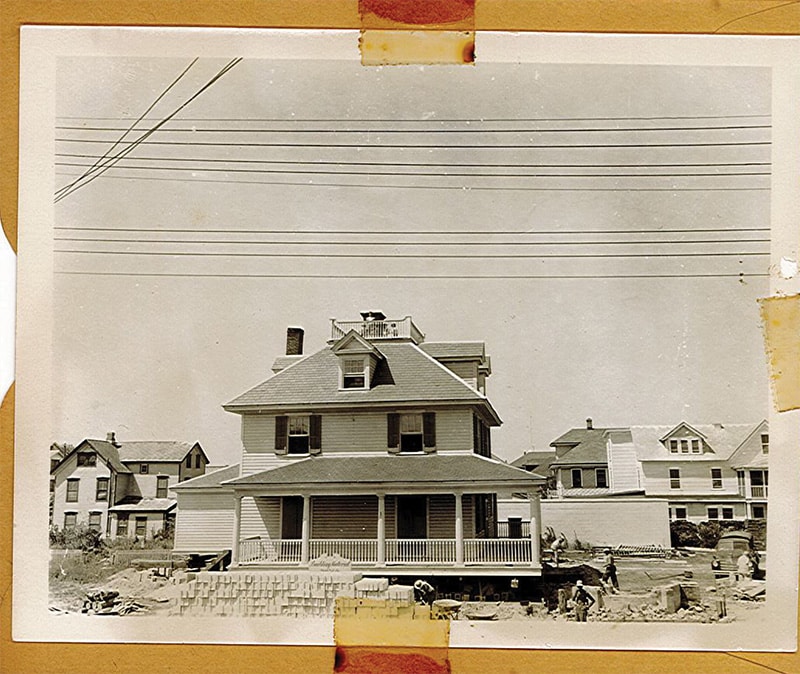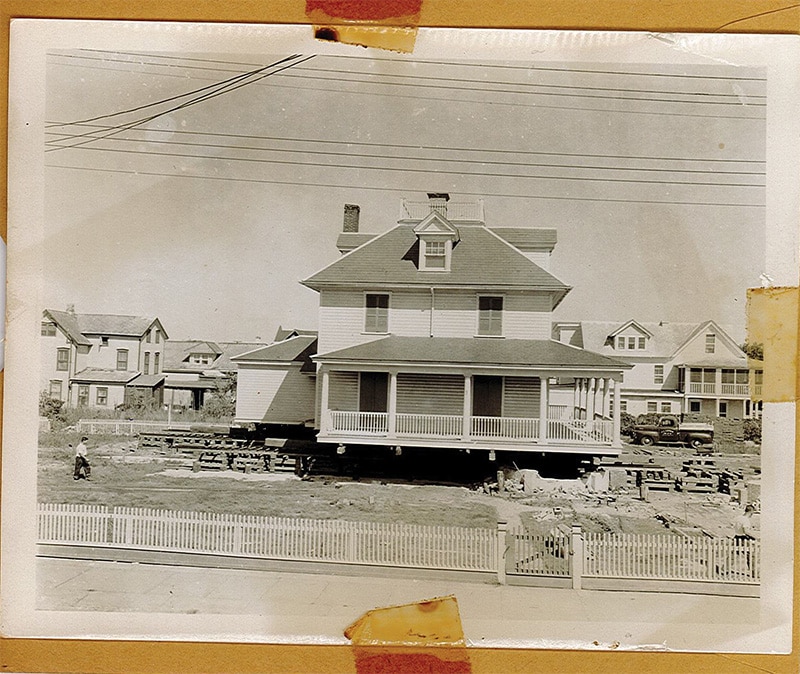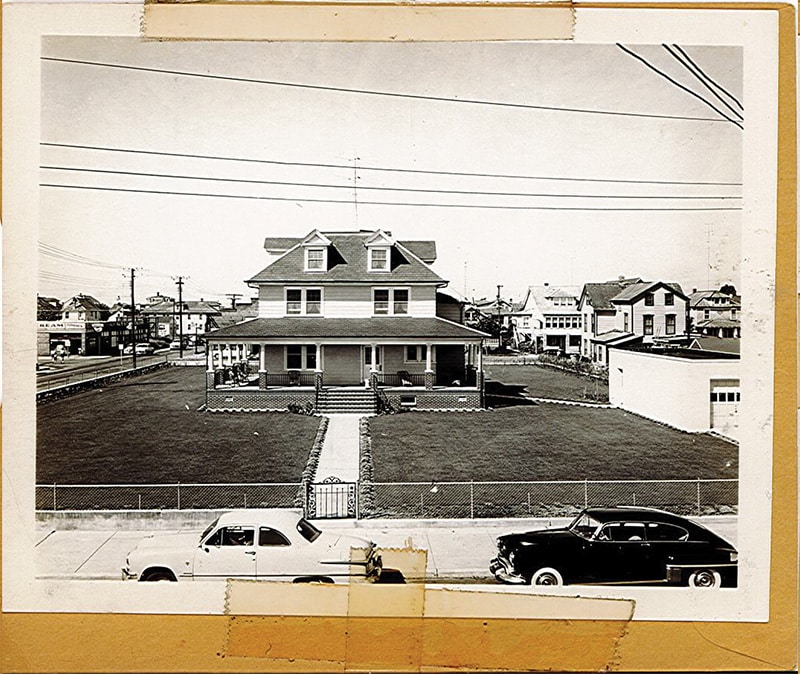 Beach House Rentals in the Modern Era
When it comes to beach vacations, Wildwood beach house rentals have stolen the limelight. You can escape the hustle-bustle of the cities and immerse yourself in history, charm, and comfort, all while you take in a slice of seaside paradise.
Hear the waves crashing, see the seagulls soaring, and let yourself be captivated by the endless shoreline. It's no wonder Wildwood has become a go-to destination for those looking to unwind and bask in the beauty of nature.
When looking for a beach house rental that encompasses all the above desires, look no further than the charming Wildwood Haze House from The Hen Houses collection.
Modern Comforts: A Blend of Old and New
Experience the perfect blend of classic charm and modern convenience at our beachfront rentals in Wildwood. Our homes are equipped with top-of-the-line amenities, including hot tubs and Wi-Fi, and offer stunning views of the beach.
Our location allows for easy access to all the local attractions, guaranteeing an unforgettable vacation experience for families and groups of all ages. With miles of sandy beaches, boardwalks, restaurants, and shopping destinations right at your fingertips, you'll never run out of things to do while you're here.
Book your stay now and get ready to create unforgettable memories with your loved ones.
FAQs about Beach House Rentals in Wildwood
When is the best time to rent a beach house in Wildwood?
iolab-dev
2023-08-22T08:04:29-04:00
Beach house rentals in Wildwood are most popular during the warmer months, from spring through September. If you prefer quieter times, consider visiting in May. For the most vibrant experience, June through August is your best bet. Autumn can also be a great option for those seeking a budget-friendly vacation.
From their humble beginnings in the late 19th century to their modern-day popularity, beach house rentals in Wildwood, New Jersey, have a fascinating history that's as vibrant as a summer's day on the shore. These homes, with their unique charm and blend of old and new, offer a slice of seaside paradise that continues to draw in beach lovers year after year. So, the next time you're planning a summer getaway, why not consider a beach house rental in Wildwood? It's a choice that promises sun, sea, sand and a whole lot of history.